The Debate over the Holiday Card
Every Christmas, my bulletin board gets full of beautiful Christmas cards I am sent of family, friends and business contacts. As a real stationery junkie, I love receiving them – and some of them that aren't specifically holiday end up in photo frames for year-long viewing. However, a few years ago, time was not on my side and I resorted to using an electronic card only.  Now this year, I am still deciding if a printed or electronic are better for Christmas cards – and not sending one is NOT an option!


Printed Christmas Card
There's a reason good things don't change much and the same is true of the lovely Christmas card. It is part of tradition for me to get to see how families and friends have changed over the year especially if we haven't had a chance to connect as we should during the year. Of course, photo cards are all the rage anymore with a family newsletter and holiday greeting all in one – and this one from Shutterfly seems to be the perfect way to do both using a timeline to graphically connect your info and photos together. Then there's also just the joy I get in pulling out our family stamp and my pretty calligraphy pen in front of the TV while I put the names on each envelope.


Electronic Christmas Card
I will admit, an electric card was so cute and as a blogger, this electronic card made it easy for me to creatively share music, photos and information with email contacts and Facebook friends. The reach was huge since I could easily blast it off to anyone and everyone (and best of all it was FREE). However, as my husband noted, no one is going to print it out and post it on their bulletin board like I do. Although he wouldn't be the one to address the traditional cards and the time it takes, there something reassuring that if I address an envelope to someone they WILL open it. With an email or a Facebook post, our card could be easily overlooked, deleted or seem impersonal.  And sadly to say, since Smilebox is now a yearly cost versus a per-use cost, it ends up being about the same as if I had them printed.
So you see my conundrum. 



There's lots of specials out there for printed cards to ensure you still get yours done by the end of 2010. What's your favorite service for holiday cards?
Here's the finished product!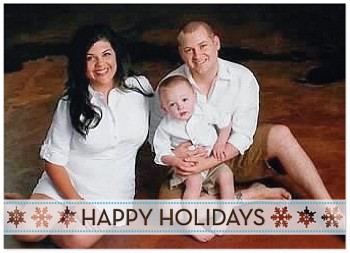 Paper Snowflakes Christmas 5x7 folded card